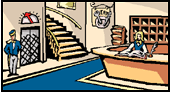 Thanks for checking in
at the lobby. Please
begin your shopping
experience by visiting
the first floor.











Bible Verse Babies - Home of the Bible


Verse Baby, a cool collectible for kids.



Bsecure Online - A powerful Internet


website blocker and filtering software.



Lena Liu Gallery - Beautiful romantic art


prints & canvases available for purchase.



Thomas Kinkade - America's best-selling


artwork with inspirational art scenes.