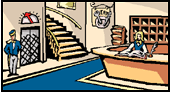 Thanks for checking in
at the lobby. Please
begin your shopping
experience by visiting
the first floor.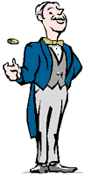 Good day! My name is Sir Clifford, but most
people call me the Blue Concierge. After
many years of devoted service to the Royal
Family in my home country of Ireland, I
have come to the States to lend my
services to Christ-Centered Stores.





I am so delighted that you have dropped
in to visit our Christian affiliate links.
Our Christian merchants not only offer the
finest gifts and services, but they offer
them at bargain prices!





When shopping the floors of our affiliate
stores, there are two things to remember:


Our floors are indexed numerically as




well as alphabetically.

For example,
you will find Christ-Centered Art ahead of Designer Ornaments on the
first floor because the letter "C"
comes before the letter "D". However,
Designer Ornaments precedes Bible Verse Babies by virtue of being
on the first floor as opposed to the second floor. (The people at
Designer Ornaments chose to pay a
small monthly premium to be listed on first floor rather than starting on the
customary second floor.)




Floor number always has precedent




over an alphabetical name.


If you would like to shop, please begin on
the first floor. If you would like to have an
alphabetized listing on our quite popular
Affiliate Links page, please browse our
Amethyst Package.

Have a blesed day, and I hope you enjoy
your shopping experience!